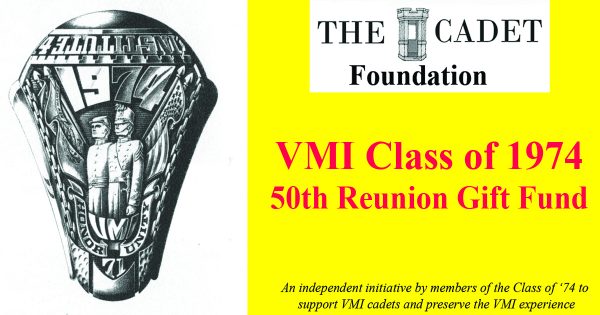 This contents of this page are maintained and approved by volunteer members of the VMI Class of '74 who are responsible for contents of this page and associated information. Please send any comments or questions to VMI74@thecadetfoundation.org 
Updates on our Call to Support The Cadet Foundation with our 50th Reunion Class Gift of $19.74 Million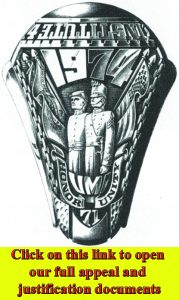 Brother Rats in the Class of '74,
In a few days/weeks you will receive a letter from our reunion committee soliciting donations for our 50th reunion at VMI.  However, a growing number of you that we contacted have simply "walked away" from VMI. We understand how you feel, but ask you to read our proposal with an open mind. We believe it is a way forward that unifies while ensuring our support goes only to the most important constituents in this issue – Cadets.
Bottom line, we are asking you to donate and support The Cadet Foundation, not the VMI Alumni Agencies for our 50th Reunion Class gift seeking $19.74 million. The Cadet Foundation is a 501c3 completely independent of the Virginia Military Institute (VMI) and the VMI Alumni Agencies. It is a non-partisan way to support the Corps of Cadets while preserving and improving the VMI experience. 
The facts supporting our position are extensive and summarized below more detail in the extensive documents supporting our position for those who want to do a "deep dive" can be downloaded using the image link or THIS LINK.
Founded by alumni and cadets The Cadet Foundation fully supports the power and authority of the Corps to run barracks, the Class system, the Ratline, and, especially the Honor Code and system.
The Cadet Foundation was formed and will remain completely independent of the Alumni Agencies and VMI, as any independent organization should. While we will maintain strict separation from the VMI Administration and the Alumni Agencies, our operations and the programmatic decisions will be completely independently and governed by current cadets and alumni participants. Only those who have truly lived the VMI experience can completely appreciate it and so our goal remains that all leadership and major operational positions within the Foundation come strictly from the VMI Family through Cadets and Alumni.
As your BRs and Cadet Foundation leads for this project please contact us at any time with any questions or to volunteer support for The Cadet Foundation. Contact us today to add your name to the growing list of BRs supporting this initiative.
Ron "Stel" Stelmasczyk '74 - James Cottrell '74 - Gene Rice '74 - Mike Andriani '74 - John Williams, Jr. '74 
Donate on-line
Click on the image or follow this link to our secure on-line donation page where you can make a one time  or set up monthly, quarterly or annual donations.
NOTE: The online donation platform, powered by Givebutter, charges a processing fee so we recommend any single donations over $1,000 be made by check to ensure the maximum amount of your donation goes directly to The Cadet foundation programs.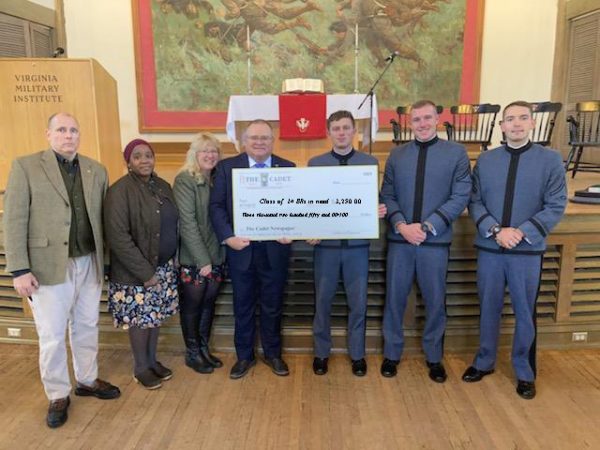 Donate by Check
Make donation checks payable to The Cadet Foundation with "VMI '74 Class Gift" as the memo line and mail to:
The Cadet Foundation
214 Terrebonne Road
Yorktown, Virginia 23692
Other Options to support
Click on the image or follow this link to contact us and receive additional information on putting The Cadet Foundation in your will, setting up a memorial, donating securities, real estate or other assets.
Be sure to check with your employer for matching gifts from your company and contact us with any questions on your donation at: VMI74@thecadetfoundation.org
The Cadet Foundation is an IRS approved 501c3 Public Charity completely independent of the Virginia Military Institute (VMI) itself and the VMI Alumni Agencies. Working with an advisory board consisting of only alumni and current cadets selected by their peers we select and execute programs to support the Corps in acheiving the Virginia Military Institute's mission "to produce educated, honorable men and women, prepared for the varied work of civil life, imbued with love of learning, confident in the functions and attitudes of leadership, possessing a high sense of public service, advocates of the American Democracy and free enterprise system, and ready as citizen-soldiers to defend their country in time of national peril."